Latin America. ZK Digimax is a Singapore-based manufacturer that provides visualization, content management and artificial intelligence solutions, with a presence in 26 countries and now has Latin America as its next target.
AVI Latin America spoke with Laura Martínez, from ZK Digimax's office for Colombia, who highlighted that for the past six months the company has been opening offices in Latin America, specifically in Panama, Peru, Mexico and Colombia.
Their solutions range from standard displays in any inch, LED displays, signage totems, self-service kiosks, LED cubes, LED floors and ceilings, transparent displays, electronic labels for the retail sector, cameras with artificial intelligence for user recognition and content management systems for digital signage.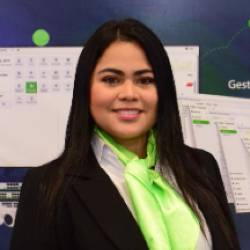 Laura Martínez highlighted that "We have a very broad portfolio in the market, diverse, in constant development. We're working on holographic displays. Being manufacturers, we have that great facility of research, development and optimization of our products. Additionally, we have a plus in the sector and that is that we not only offer these solutions in their standard form, we also offer them with intelligent applied solutions such as artificial intelligence and augmented reality. Globally, we count large companies as customers, including McDonald's, Starbucks, KFC and Burger King."
Regarding the application of artificial intelligence in its solutions, he highlighted that, with intelligent applications, in the case of the retail sector, screens can identify gender, age range and thus project information for this specific audience, generating a greater impact with the solutions. They also obtain metrics that allow the client to make decisions according to the report that is obtained.
The representative of ZK Digimax pointed out that, although they are new in Latin America, they have the support and backing from the parent company. And they are already closing projects with large companies in Latin America, from different sectors of the economy, interested in their solutions.
In Colombia, the company will open its showroom at the beginning of December, a restaurant located in Bogotá that will have all the solutions offered by the company to serve its customers. It is one of the first restaurants to implement artificial intelligence in Latin America.