Mexico. With 33 years of experience at a global level, 10 in Mexico, and with a large number of preferred customers of its technological solutions, Chauvet celebrated its anniversary in Mexico City, with the assistance of its customers and the team that makes up the company.
The sustained growth in sales of its solutions has continued, and the pandemic was even described as a springboard, since once the contingency was overcome and the return to the new normal, the technological solutions of the company – and of its various subsidiary companies: Chauvet DJ, Kino Flo, ChamSys, Iluminarc, LynTec and Trusst – increased their demand by the market. Carlos Zamora de Martino, Managing Director of Chauvet Mexico, told AVI Latin America.
"The story seems short, but it's already a long way to go, and fortunately upwards. Actually, the brand in Mexico is 23 years old, but through a distributor. It has been an uphill climb in terms of work, but also in terms of results, because the company has grown and multiplied and that is why we are celebrating today thanks to the fabulous customers who are here," he said.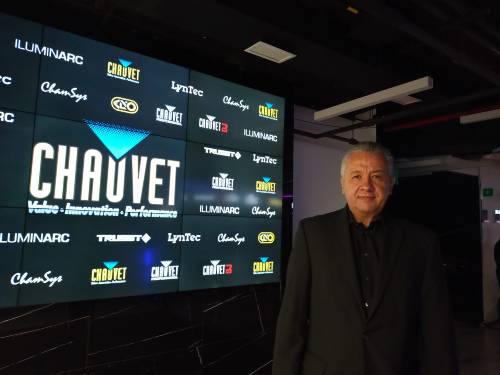 He considered that, although the COVID-19 pandemic was a difficult time for everyone, it was able to be overcome and in the end it was beneficial: "The most affected industry was ours, because we depend on people coming together, a disco, a club, a concert, all that was the last thing that came back. We were good foresighted, because when this was released, we talked to the factories so that as far as they could, they could start manufacturing for us. When we came back from the pandemic, we had better protected inventory than other brands, that's thanks to the economic strength of the company. So the stop did give us a great lesson, first of humility, but also of gratitude that we were able to return."
The executive considered that the years 2022 and 2023 have been beneficial for the company, and they foresee that 2024 will be of great challenges. "A year of great challenges is coming, because 2023 has been the best year in the history of Mexico. We multiply sales in a fantastic way. The challenge is going to be to maintain the good things we have done and obviously try to improve ourselves, to find better and more customers. New product launches are coming."
Regarding the incorporation of new technologies to their products, he said: "We increased the technology of our IP products, that is, it is now very difficult for rental houses, especially rental houses and installers, to look for products that do not have an IP connection. Chauvet had already been working on these products, but focused more on these types of products that have IP65 protection. Everything was geared towards designing and improving the products."
He mentioned that Chauvet, although there is still a long way to go, already incorporates artificial intelligence into its solutions. "From training. From preparing training to be able to better reach our customers. A person records a video in English to explain the use of our products. Through artificial intelligence we already have translation into different languages, which is fantastic, not talking about the simplest, they have better things that are being studied and I believe that this company will take advantage of all the advances."
During the celebration, awards were given to its best customers, not only for sales volume, but also for loyalty to the brands they distribute in Mexico.
Text written by Vlad Martínez for AVI Latin America.