Mexico. Navori Labs has deployed unified digital signage software and an AI-based camera analytics solution for Walmart Connect, Walmart de Mexico and Central America's omnichannel retail media business.
The solution is now available at all 173 Walmart Supercenters in Mexico and 180 of Sam's Club's 200 locations in the country, with the remaining 20 stores to follow.
Navori Labs' integrated QL digital signage and Aquaji analytics solution enables Walmart Mexico and Central America to collect customer engagement metrics and deliver valuable analytics, including shopper demographics, to DOOH advertising partners who advertise their brands on their in-store digital media networks.
Navori Labs is the only digital signage provider that also offers an in-house developed marketing analytics solution, ensuring seamless interoperability with digital signage content management and QL playback workflow.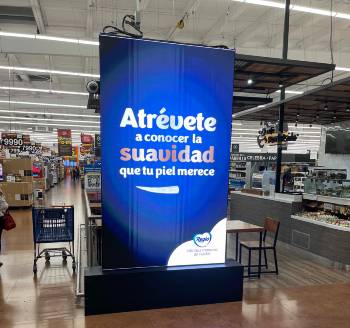 Navori Labs entered Walmart's Mexico and Central America radar earlier this year when business leaders expressed interest in developing a digital signage strategy that would also support programmatic DOOH advertising, ad campaign management, and playback test reporting. Navori's Aquaji solution provides shopper demographics and in-person traffic data directly within QL's CMS, along with playback test data for ads.
The data is valuable to both Walmart Mexico and Central America and its advertising partners, as all parties can access deep analytics that help them improve campaign strategies based on real-time, store-level customer behaviors captured through Aquaji cameras.
Today, every store has a camera near the entrance that can automatically rotate to track customers anonymously. The camera is installed with a "Totem" that also includes a large built-in vertical display for the presentation of digital signage content, powered through the QL software.
Walmart Connect expects to add more QL-powered displays and Aquaji cameras at strategic store locations in the future, including integration with existing system-on-chip (SoC) displays that display digital signage content.
"The Totem has an audience measurement camera that provides us with invaluable data, as it helps us better understand the consumption habits of our customers to be able to offer segmented strategies based on the campaign objectives of our advertisers," said Jonatan Fasano, Head of Product, Walmart Conecta Mexico and Central America.
In addition to adding more screens and cameras, plans include rolling out additional QL features, including its ad campaign module, advanced content scheduling, and context-aware automation for content playback. The latter two features will enable network operators to automate all content management based on business rules, reducing the need for manual day-to-day content management tasks.