International. The integrator Sound Image has transformed a conference room in the medical company Edwards Lifesciences with the installation of two Christie LED videowalls of 5 by 3 meters and an image processor Christie Spyder X80.
The new space has capacity for 126 people and has been integrated by Sound Image and designed in collaboration with Plannet. Edwards Lifesciences, headquartered in Irvine, California (USA), is a leading medical technology company. For its renovated conference center, Edwards Lifesciences was looking for a fully redundant space that included a full video production suite as well as autonomous maintenance.
Two LED videowalls of 1.2 mm of Christie of 5 by 3 meters with redundant drivers Christie E600, managed by an image processor Christie Spyder X80 were installed. With capacity for 126 people seated, microphones were installed at each point. Six cameras are used at the front and two at the back of the room, in conjunction with the Spyder X80, which allows for multi-window and self-configurable full auto-tracking during video calls.
The choice of Christie LED videowalls was based on budget and specific space requirements. "We studied a couple of products and solutions from Christie, as well as other manufacturers, but the customer likes Christie and I like to support Christie," said Jared Shapiro, account executive at Sound Image. "The customer wanted an external power supply because of the heat issues they had in this space. This allowed us to move all those BTUs to the rack room, where they can be better controlled."
The Christie LED videowall allows front maintenance and has an optional remote power supply for greater installation flexibility, efficient heat management and redundancies. This premium LED videowall solution offers [email protected] resolution, HDR10 compatibility, integrated Clearview technology and low brightness enhancements for extraordinary visual experiences.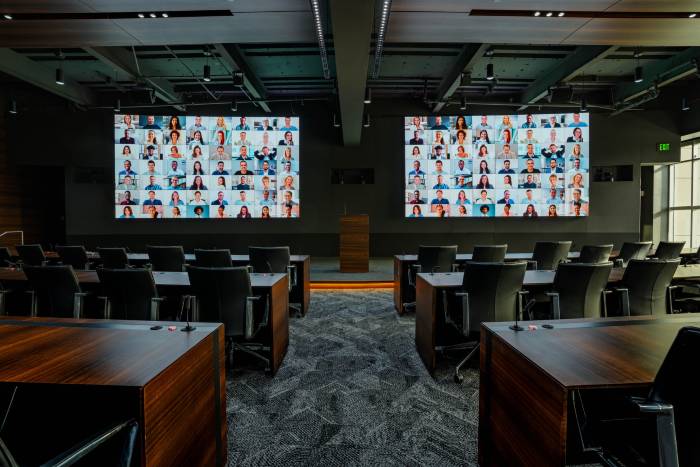 The use of a Christie Spyder X80 image processor in the boardroom was in part to standardize technology across the Edwards Lifesciences campus and to take advantage of its multi-window capabilities. "The Spyder has been installed in multiple projects across this campus, and I like to standardize some of the technologies we're using," Shapiro said. "The Spyder allows us to use multi-window and auto-tracking, which helps us create clean transitions and multi-window presets."
The requirement to create a fully redundant space was central to the project. Although it added complexity to the system and required much more rack space, Sound Image was well prepared to meet the challenge. "Sound Image is a touring services company, and we've been in the audio industry for decades. The show should always go on, and we could never cancel a concert due to technical difficulties. We have the same mindset when we do permanent installations," Shapiro said.
In addition, the short installation time forced Sound Image to work simultaneously in the space with construction crews and carpenters, but care was taken to ensure that the project went smoothly.
The result is a renovated boardroom that exceeds expectations. "Everyone loves space, and everything about it, from audio to video, is top-notch," Shapiro concluded.