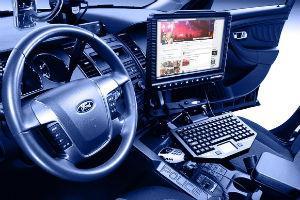 Today, all patrollers need mobile computerized systems, with brightness above 1000 NITs and dimerization (contrast ratio) 1000-1 to be able to fulfill their specific surveillance tasks.
By Adrian Morel
The first week of June I had the opportunity to visit the exhibition "Display Week 2015" organized by the Society for Information Display (SID) held in San Jose, California.
In it, novelties, trend and consolidation of existing products were presented. Among them, 4K/UHD products continued to mark their dominance (where 10k was also exhibited), Quantum Dot technology, the dominance of OLEDs.
In it, three things caught my attention, namely:
First: Despite being an engineering exhibition, there seems to be a clear tendency to show or promote mass products. This was very evident, because the products presented were nothing original, it was not necessary to travel kilometers or miles to travel stands where you can find the same thing on websites or the internet. This is not a criticism, it is simply an observation because none of the exhibiting companies showed us "the true advances of the engineer".
Second: The lack of Latino or Hispanic. This is repeated in almost all engineering or pure research events. For me, it is very easy to identify Hispanic, not only when he speaks, the same with Latino. There was a massive absence of people from Latin America, including Brazilians. Different from other cultures, where there was an important pavilion of Germany.
Third: No one shows new business or new investment opportunities in shipping technology. By those present, participants and attendees, you could see more of the same, companies such as LG and Samsung, among others, continue to target the mass market without wanting to develop or make evident other very lucrative market niches, for example, the need for screens, display or monitors of high brightness (sunlight readable), which by its nature of being a specific and sophisticated niche, perhaps the volumes are not justified enough to open a new category, and this neglect on the part of the large ones is a great advantage for intermediate or small companies.
---
The market for standard displays, let's say 18.1 inches, has a brightness limitation of approximately 300 NITs, which is not enough to see the display in the sun's rays. The high-brightness market is preferred and requested by law enforcement, the police or military who is in the field or theater of operations.
Today, all patrollers need mobile computerized systems, with brightness above 1000 NITs and dimerization (contrast ratio) 1000-1 to be able to fulfill their specific surveillance tasks.
Both the army, aviation and the navy, require teams that work 24 hours, especially in all terrain, including the outside. These displays are not only installed in every tank, missile carrier, aircraft or ship, but are also used in infantry, where the technology provides voice and video communication.
Companies like GemLight Tech take advantage of this unexplored niche and since 2007 they provide equipment for this segment, according to comments by its president Kevin Hathaway.
The security, police, military and paramilitary market for land, air and water is difficult to estimate in potential quantities of units to sell. According to the website of the CIA of the United States of America, the amount of active combat military is approximately 20 million, but it is hard to believe when among the 126 countries mentioned we see Russia with 766,055 elements.
It is understandable that military, intelligence or security information is "sensitive" information and it may not be appropriate to show it at the public level for national security or strategic reasons, but common sense says that if the United States has more than 250 military bases and there are only 2,333,000 US combat personnel, obviously, the market is superior.
Even companies owned by L3 Communications, Sierra Nevada Corporation and General Dynamics depend on small companies that have the ability to potential brightness, optimize heat dissipation and calibrate drivers (power supplies or transformers) to meet the needs of a mobile, militarized and all-terrain market.
In short, we can say that the search for new business opportunities are in new technological production channels and new non-traditional channels with specific market niches.
Adrian Morel, MBA, is a technology consultant in Silicon Valley, California. You can contact him through [email protected]