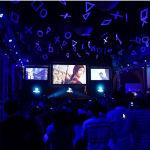 Argentina. The company 2MGNET was responsible for the audiovisual production of the 19th Conference of the Argentine Industrial Union in Buenos Aires. Several video processors were used for this event, including two multi-input high-definition switches, with scalability and a multi-display controller.
They also used a mixer switcher with four stops in Edge Bleeding mode to power the main screen (19mx5m).
All the audiovisual content of the event, including PowerPoint / Keynote presentations, videos and CCTV, were designed in 1920x1080i in panoramic format combined with two Full HD projectors of 20,000 ANSI.
On the other hand, the scalability matrix for multiple inputs was used, in order to provide image to the two side screens (10mx5m). These complemented the main screen to create a great environment with widescreen displays of all content designed in 1920x1080i.
The HD mixer was also useful for inserting/positioning logos and still images on the screens. The projectors used for this were two full HD units of 18,000 ANSI. The second switch with scalability powered the other displays on the site with the main output resolution at 1920x1080i.