The million dollar question is deciding which is better, having an AV expert train in IT, or having an IT person train in AV. The truth we still don't know.
Juan Tamayo*
I am gladly writing this opinion column. I have been working in audio over IP for almost 14 years, and in the last 3 years helping to develop video projects over IP, I want to tell you the technical professional story of how I have been facing the evolution of audiovisual networks, from analog to IP. Long way, but I hope to make it enjoyable. It is worth remembering that this is an opinion column, therefore, it reflects what the columnist thinks and not precisely the magazine, only as clarification.
It all started when I faced my first "big" project. I had not installed it, but, as if for a change, I was called to solve other people's problems by 99%. He was a young electronic engineer who didn't know anything about audio, but he liked to study, I still had some hair left. And I had this project of an amusement park where you could hear the operating cycles of the attractions on the speakers. Literally, we knew the operating cycles just by listening to the sound system.
For that occasion we installed a solution on CobraNet, that layer 2 protocol where the entire network was taken, the first month they called us every weekend explaining that the payment solutions that were on the same network were falling. That's when I started to worry about bandwidth, quality of service. In the end, we solved it by making the suiches independent and improving the network thanks to the client's IT team.
By 2010 we installed the largest CobraNet project in America at that time. More than 40 points in electric urban train stations type Metro. These remote points with independent management, level control, audio measurement and other functions, to achieve this we invest a lot of programming time and network infrastructure policies generated by the client's IT team, again.
For the year 2011 I was part of a team of installation and programming of 6 stadiums for the U20 World Cup in Colombia, an incredible design and management work, a lot of learning. But we were facing the technological migration, we went from CobraNet to Dante, from layer 2 to layer 3. And that's how 3 stadiums were in layer 2 and the other 3 in layer 3. For these projects we decided to install independent networks because we knew that we did not have IT teams that generated adequate management policies. Only a few years later I was able to return to a stadium to review it, almost 6 or 7 years later and I realized that they did not change anything we had done, possibly because in the delivery we did not carry out the important exercise of discussing administration and maintenance policies of audiovisual systems, we do not have an IT team. Always work hand in hand with your client's IT team, this will help you solve half of the problems.
Between 2014 and 2020 I worked in a microphone company, and I still had contact with AV networks over IP since I was a Dante instructor for 2 years, advising projects. Fortunately in 2020 I enter several organizations where I proactively help develop audio and video projects over networks, this introduction to give my advice on how to implement your AVoIP projects.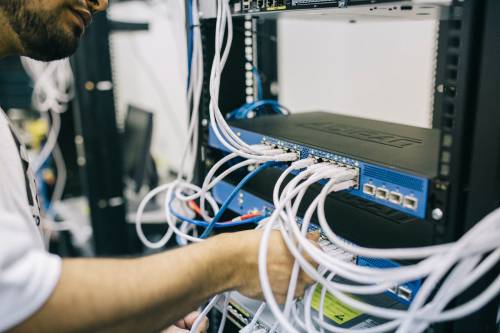 In developing needs analysis for each project, set your signal priorities. For example, 1 to 1 but stable audio or video communication is required and this connection will not change, or, on the contrary, I have the possibility of 10 inputs by 10 outputs and I require matrix control to select. This is important to know since you as an integrator will be able to develop the most efficient user interface for the project.
When modeling the inputs by the outputs, validate the data network design, this is not as easy as saying I need a suiche with so many ports (sum of the sources of inputs and outputs), since distances must be taken into account. In some structured cabling technologies it can reach up to 100 meters, although depending on the bandwidth it can go down to almost 60 meters. What if my point is at a greater distance? For this case, at least one other suiche must be installed to add distance, but the installer must guarantee that your backbone or column connection can support the necessary bandwidth.
For example, you have 10 remote units each with a resolution of 4K, and I want to take them remotely to another side of the building, there you can easily consume 1G for each point, bone 10G in total, almost all the bandwidth, so you must be very smart when designing and managing your audio-visual network design over the data network, That is why I have always advised having a person who knows about data network management in your organization.
The million dollar question is deciding which is better, having an AV expert train in IT, or having an IT person train in AV. The truth we still don't know. From what I can observe from the industry, is that possibly AVs are a subgroup of IT, so the second option might be the best for your organization, although I've always said, if a person is good in an area, take advantage of it and exploit it wisely.
Just to take into account, what I have been able to observe in the installation industry the current technologies of audio over IP we have Dante, AVB, AES67 with all its variants and an important but not IP, is MADI.
In video we have several options, even some audio are already migrating to video such as AVB and Dante, but generally they are based on 3 types of technologies such as PacketAV, SDVoE and H.264 or H.265 with their advantages and disadvantages between these. I think we could do just an audio webinar, and a video webinar to explain the differences of each technology.
Now, to say goodbye, only now in Latin America we are talking about audio and video infrastructures on data networks, the industry is already showing us cloud-based solutions to have them on hand anywhere in the world.
I invite you to give your opinion, ask, comment on this article, this action will help us grow and share information with an industry that needs more a collaborative market than a competitive one.
*Juan Tamayo, CTS-D, is an electronic engineer and currently serves as Manager of T-Árbol Audiovisuales SAS, Product Applications Engineer for Latin America of International Sales and Support Engineer for Synthax Inc.