Engineer Oswaldo Rueda is manager of Yamaki, one of the most important distributors and representatives of audio brands in Colombia. He shared with AVI Latin America his anecdotes and vision of the industry.
Richard Santa
Since 1988 Oswaldo Rueda is linked to the audiovisual industry. And he did it with his brother Guillermo when they began to work, initially, as carpenters in a small company that manufactured audio amplifiers in an artisanal way. A few months later, they became contractors in charge of assembling the amplifiers.
Those were the first steps in the industry and a few years later allowed the Rueda brothers to be shareholders of the Yamaki company. He recalled that his electronic engineering degree was studied at the Antonio Nariño University in the evenings, while in the day he worked in Yamaki.
"Once I finished high school, I studied two semesters of Industrial Engineering, and several years later I did my studies in Electronic Engineering at the Antonio Nariño University, studying at night and working during the day on our personal project Yamaki. As an anecdote, I remember that I started studying Electronic Engineering but I was very afraid of failing since I had not studied for several years, I had many responsibilities in my position as General Manager of Yamaki and additionally my two daughters at that time with ages of 4 and 5 years, but it was my wife who gave me all the support and backing to face that challenge that I took forward standing out academically, "he said.
Throughout these 35 years, Oswaldo Rueda has had the opportunity to participate in fairs, specialized courses and seminars that have allowed him to travel through several countries around the world, which enriches and strengthens his skills and knowledge of the sector, thus helping him to have a broader panorama of the behavior of the market.
"We always worked hand in hand with the aim of helping our families and of course all the people who worked in it. The beginnings were very hard years of much sacrifice, but with perseverance and honest work we managed to build a solid company and benchmark in the sector in our country and in the world, "he said.
An increasingly professional industry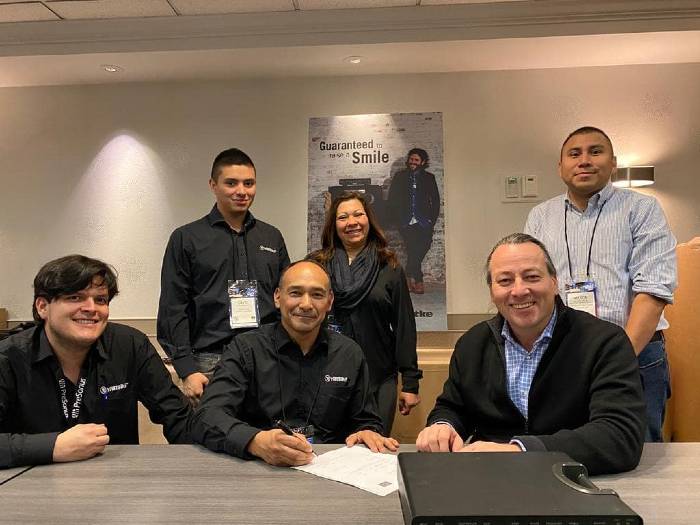 According to his experience and vision, the Manager of Yamaki assured that in the Audio and Video industry in Colombia there is always the expectation of adopting new technologies to improve the user experience, and this happens in all vertical markets. Despite the costs of implementing these technologies, many companies and families invest to access them as soon as they are available and this has opened space for the emergence of various companies competing for this market.
"Unfortunately the consumer, in many cases, does not have a clear notion of their needs, and that is why at Yamaki we have the policy of offering solutions that really adapt to the particular needs of each client. We do not compete with price, but by providing our clients with elements of judgment, advice and support that allows them to make conscious, appropriate and profitable decisions for their businesses," he continued.
He added that "We have strived to make those who are part of our marketing chain, are highly trained, and can design projects for real needs, making the most of the equipment and solutions we distribute. This is one of our big bets and we are constantly working on it to strengthen the future, not only of our business, but of the market in general."
And that is their commitment to seek that every year they have better informed consumers, and better trained designers for the well-being of the AV industry, an industry that, from their point of view, is growing, and that has a high potential to continue doing so, however, they must face many challenges such as the current ones regarding the availability of products, which can minimize if there is a clear and open communication between the consumer, integrator, wholesaler and factories.
"In Yamaki each proposed solution is based on knowledge, experience and commitment to do things right from the beginning, always friends is the constant watchword to good work that is reflected in each successful project," he said.
A long day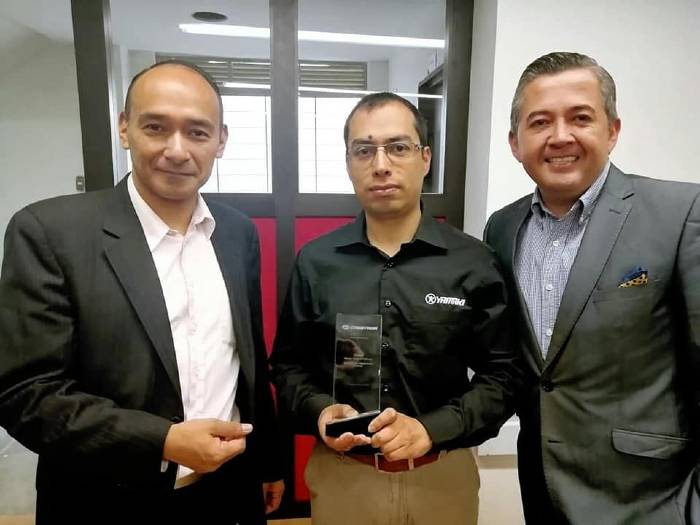 The day of our Professional of the month invited for this edition, begins very early, from 4:00 am, to fulfill your personal taste of exercising. And it's just at that time to be able to be consistent. Your workday starts at 7:00 am.
"During the day I am in permanent contact with the entire work team, in person and virtually, since we have several work centers located in different cities of Colombia. Constant communication allows us to implement various strategies to provide solutions in the shortest possible time in order to be efficient in the development of the business. I try to end my workday at 6:30 PM, to devote time to my family and reading, a good habit I've been taking for a couple of years."
In addition, Oswaldo Rueda likes technology, he is convinced that with the good management of these tools processes are improved, better decisions are made and the business becomes more competitive and efficient. "It is for this reason that a good part of our investments are aimed at the implementation of tools that improve each of the internal processes as well as the training of employees in the use of them. The challenge is to foster a culture of constant learning in the work team that ultimately translates into continuous improvement," he concluded.