Today, in the middle of 2022, women are still overcoming difficulties in the AV industry just because they are women. That is one of the challenges faced by our Professional of the Month.
Richard Santa
Verónica Zorrilla Ibarra is a Mexican executive who today is at the head of the company Proakustics, Arquitectura Sensorial. He came to this position after an international tour that has allowed him to live and study in different countries. She spoke to AVI Latin America about her experiences and vision of the industry.
For the Professional of the month of this edition: "Technology has accompanied us throughout our lives both in radio and in ambient music for shops, offices, supermarkets, banks, shops, hotels, pharmacies, restaurants and any venue. Now, and for several years now, we are also in Digital Signage and everything that can be transmitted on screens in these same places to cover the visual part of the environments and communication. "
He recalled that the passion for technology and the business world comes from his parents. "My dad is a great entrepreneur from whom I have learned and continue to learn a lot. He has been a very creative, innovative and avant-garde man. Since I was a child, in my house you could see the latest technology and try new technologies, some thrived and some did not, but it was a way of life in my family. My mother, although she did not work formally, worked a lot and curiously she was also very interested in technology, because she was one of those who, if something broke down, she herself disassembled the piece, found out, cleaned it and reassembled it, managing to solve many things by herself. Both my dad and mom are very active and proactive in every aspect, a great example in my life. Fortunately I'm still learning from them."
A company of generations
Verónica Zorrilla Ibarra's father started more than 50 years ago in the AV industry, with the Muzak company and several radio stations in Mexico of Ultratelecom, linking in that trajectory to the family. She is the eldest of her four siblings and the second generation of the family to take over the management of the company, and is also chairman of the Board of Ultra 101.3 FM.
"I lived outside of Mexico from 1998 to 2008, in Costa Rica and Hungary. When I returned to Mexico at the beginning of 2009 I began to manage the commercial part of Arte Sensorial, a company dedicated primarily to Sensory Marketing. A few years later in March 2013 I took over the management of what at the time was Muzak's office in Mexico. From 2013 to date there have been many changes starting with the name. Now we are Proakustics Arquitectura Sensorial and MOOD MEDIA Mexico," he said.
He recognizes that over the years the essence, which is specialized ambient music for each business, has been the same. But technology, mode of transmission, specialization and "branding" has changed. "I am a believer that emotions are what drive us to act and determine a very important percentage of our decision-making. Music is very important in people's lives and generates many emotions. The rhythms and melodies accompany us from the day we are born and provoke different moods. Through music and aroma, we create environments and experiences to connect emotionally with customers. Especially today when there are so many problems, frustration and anger in the world, I think creating pleasant environments becomes more important."
Music is the central focus in Proakustics Sensory Architecture. Also in the radio stations music is fundamental, they even have a foundation in the group called "Despertando Sonrisas" and consists of teaching children in the first age (between 0 and 6 years old) through music and with which they have had results that qualify as wonderful.
Pandemic and shortages
Like any company in the technology sector, Proakustics has had to face significant challenges in recent years. The first of these was the pandemic, of which Verónica Zorrilla Ibarra assured that it changed their way of working, achieving a flexibility that they had never imagined, with part of the team working remotely and much more coordinated. Situation that remains today.
The second challenge has been the shortage of some teams to integrate and adapt to technological changes with the speed that is taking place. "The way to face it is to look for constant training, advising us from our suppliers to be able to achieve the best integrations and being very close to customers to thoroughly understand their needs and try to get ahead of them to be able to plan the stock we may need, but not too much due to changes in technology. A lot of vision to project constantly in the short term and adapt very quickly to changes."
The third challenge he faces is the competition that exists and a lot of it, he said, with people who are not trained or do not have the knowledge that is required to make a professional installation. "I think it's very important to have quality standards and certifications to further develop excellence in facilities and services in the industry as a whole."
The fourth and final challenge she faces in her day-to-day work is because she is a woman. "Many times I am not taken into account as if I were a man. It has even happened to me that I talk or ask something and the answer is addressed to one of the men who is next to me. Fortunately, I have achieved very good relationships with many of my customers and suppliers, but today it is still part of the challenge."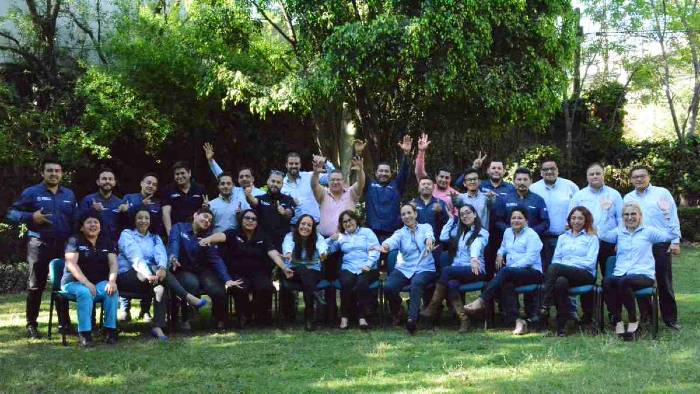 The industry is growing
Verónica Zorrilla Ibarra is positive about the future of the industry in the short and medium term. This year, he said, industry growth is expected in Mexico in double digits. "Although more and more things are done virtually, those that are done in person are very important that they are very well done and with state-of-the-art technology to make people leave their homes and live meaningful experiences."
Finally, he pointed out that "Although at the beginning of the pandemic we saw many businesses close, right now we are seeing openings and again construction and growth. Digital Signage is growing and expanding. It is incredible the possibility of managing many branches with valuable content in time and precise location and this is already possible with technology that allows us to execute it in a very simple and effective way."
Family and constant learning
Verónica Zorrilla Ibarra has been married to Víctor Balcázar, her love from university, for 32 years. He has 3 children: Nicolas, 24, Bernardo, 26, and Victor, 28. The 3 already professionals. In fact, Bernardo leads one of the radio businesses of the Ultratelecom group, being part of the third generation that is linked to the company.
His academic career is extensive. She is a graduate of Business Administration from the Autonomous Technological Institute of Mexico, ITAM; British Council Fellow for Master's Degree in Business Development and Competitive Strategy from the University of Reading in 1990; Ipade Business School Senior Management, 2016; Immersion II Driving Business Growth and Innovation at Kellogg School of Management, 2017. He has also taught administration at the university level at ITAM and CESSA.
He has had the opportunity to live in several countries: Canada, England, Costa Rica and Hungary, and currently in Mexico. She loves getting to know different cultures and ways of thinking, philosophy and events that drive women.
She was part of the Board of Directors of the Chamber of the Radio and Television Industry, CIRT, for the period 2013 and 2014 and a member of Victoria 147 business accelerator for women. In 2013 it was considered by Forbes magazine as one of the 30 promises of business.