Let's take advantage of new cutting-edge technologies to achieve the best possible audio and video quality in our conference rooms, without headaches and without draining our budget.
By Miguel Paucar
Repeat with me! Equipping a video conferencing room with quality audio doesn't have to be difficult. Of course, there are exceptions. If we want to have a room equipped with the best possible audio, with a system to control lights, screens, and others, perhaps then we need an expert to help us install and configure a more advanced format.
But if we have a small room, or medium, without major complexity to make a good videoconference, we can take advantage of new technologies that help us obtain good audio quality without filling the room with bulky equipment or complicated facilities.
How to decide which equipment our room needs?
Let's focus on small to medium-sized rooms. Imagine a Huddle Room or a room for 5 to 6 people. These types of rooms may not have the space, or need, of a very large or complex audio system.
The key equipment to achieve a good videoconference are: screen to be able to see the people on the other side of the call, camera so that those same people can see us, microphone so that they can hear us, speaker to be able to listen to our colleagues on the other side of the call and a way to connect our laptop. Here's the modern BYOD or Bring Your Own Device room.
As these types of rooms tend to be smaller, perhaps it is not the best idea to invest a lot of money in an oversized audio and video system. Good results can be achieved using fewer equipment.
Consider also that today all laptops come equipped with their own camera, microphone and speakers, but remember that the manufacturer must be able to include these resources without taking up much space and without raising the cost of the product. It is for this reason, that many times the sound and video of the laptop are not optimal. If we want to get better audio and video quality, we need to add the following components:
The Chamber
We can include a camera to improve the video quality of our virtual meeting. If it's a small room, you may not need to add a PTZ camera with 4K resolution autotracking. We can add a simple, static camera with USB connection, simplifying our connections to any laptop we bring into the meeting room.
The Display
Depending on the size of the room (a classroom or training room, for example), we can use a single display screen. If space permits, it may be necessary to use 2 screens, or according to their use, define if the same image is going to be projected on both screens, or different images.
In larger rooms we can include a larger screen, or even a video wall to achieve the desired use. We can also consider using an interactive whiteboard, if we are going to make meetings with more interaction of the presenter.
The Audio
We need people on the other end of the call to be able to hear us clearly and clearly. This is very important: We cannot allow our message not to be heard well. Have you ever been in the middle of a meeting, and an attendee demands you repeat the information because it was not understood or heard well? It has happened to all of us. This can be avoided with a good audio system to complement our video conferencing equipment.
Sure, we can think of a complex system of microphones and speakers, but for a small or medium-sized room, it may not be the best alternative or does not reach our budget.
The right choice is an all-in-one system, including high-quality microphones and also high-quality speakers. Like Shure's Stem Ecosystem. The Stem Ecosystem is the solution to obtain a very good quality of voice pickup and also reproduction of the sound of the call. No installation or complex configuration.
Connectivity
Once we have our components ready to carry out the videoconference. Now, we need a way to interconnect them and include the laptop as well. We must then consider that our video and audio equipment can talk to each other.
Today manufacturers offer connectivity standards such as Ethernet, HDMI and USB. In this way, linking the components to our PC using one of these connection methods is very simple. In the case of Shure's Stem Ecosystem, we can centralize all audio connections to a single USB connection. Or better yet, we can use a connection centralizer like Barco ClickShare.
All this means that we can achieve a complete audio and video system using a minimum of cables or connections. Perhaps the budget to equip the room does not include an installer or a designer. In this case, the company's IT technician can easily perform this installation.
Examples:
Here are some examples of how to achieve better audio quality, without needing a wide variety of equipment and with minimal wiring.
Small Conference Room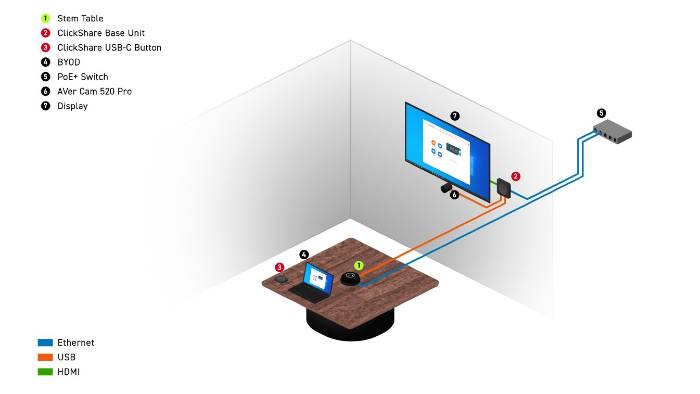 In a small room we can achieve better audio and video quality without requiring more wiring and installation. Here we see how we can equip a small room using Ethernet, USB and HDMI connections. Just adding a PoE+ switch to connect our Table microphone/speaker that is part of the Stem Ecosystem.
Medium Conference Room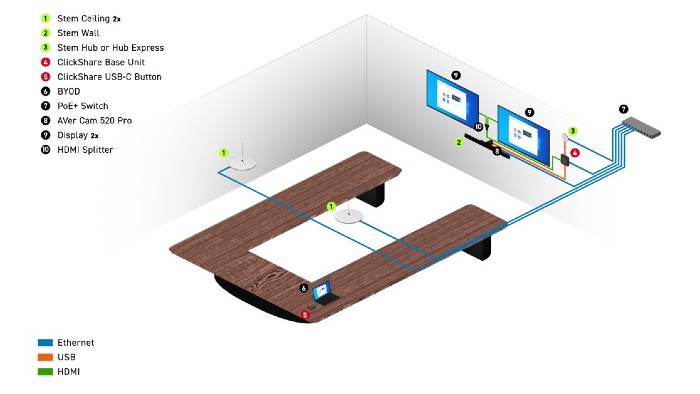 Here we see how to connect a medium room, with 2 screens. In this case, using the Ceiling and Wall microphones of the Stem Ecosystem. Note the use of Stem Hub and Barco ClickShare to centralize microphone connections and bring them to the PC via USB.
Classroom or Training Room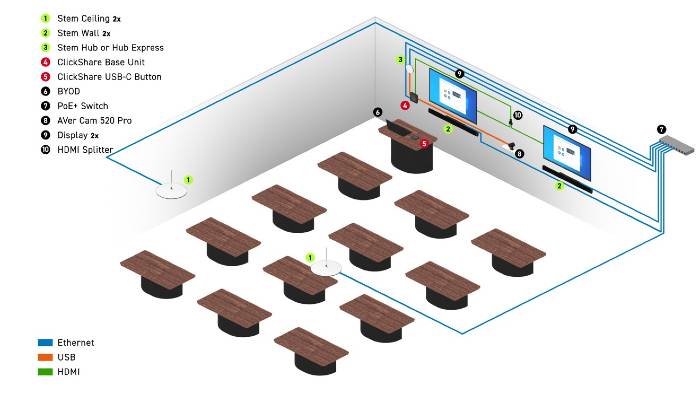 In this case, we use 2 screens with 2 Stem Wall and 2 Stem Ceiling, joining the connections with Stem Hub to connect the computer via USB. Note the minimum cabling required when using the Stem Ecosystem with USB camera and HDMI-connected displays.
In short, Tell me once again: Equipping a video conferencing room with quality audio doesn't have to be difficult. Let's take advantage of these new cutting-edge technologies to achieve the best possible audio and video quality in our conference rooms, without headaches and without draining our budget.
*Miguel Paucar, CTS, is a Market Development Specialist for Shure Latin America.