Excluding practical classes, everyone can benefit from a well-designed and implemented system. And to help us, today we have various technologies at our fingertips.
By Fernanda Gereto*
Whether in a presentation, in a show, in the speech of the president of the company or in a meeting, audio is vital to convey a message clearly, objectively and without interruptions. And when it comes to a classroom, audio is even more important to student performance and teacher performance.
Good communication is crucial for hybrid education. A quality audio gives us the feeling of being part of the environment and allows us to contribute with comments and doubts during the class.
It is estimated that about 75% of the efficiency in a transmission is thanks to audio, however, this only applies when the audio in the environment (acoustic), or the audio transmitted through some videoconferencing platform, are of excellent quality. What we usually see is the opposite: rooms with poor acoustics and overrated audio and video equipment. For this reason, the percentage of efficiency drops sharply and connections become a problem that affects the entire educational institution. As a result, poor quality sound can reduce learning capacity and memory, as well as demotivate those who opt for hybrid education.
To understand how audio influences learning, recently an association in Sweden did a study with more than 1500 online students, which indicated that about 80% of students have concentration problems, 60% irritability, 50% tiredness, 40% difficulty remembering details of content and about 30% leave classes with a headache if the audio in the class is poor.
Also, a Microsoft study on future trends in classrooms for 2030, indicates that collaboration platforms are here to stay and that it is necessary to adapt now, to meet the future needs of students. Once the videoconferencing systems have been well installed, these devices allow people in different locations to work together in real time and on educational projects inside and outside the classroom.
Just to address some possibilities, I would like to propose the following questions:
- How to improve accessibility for students on a chaotic rainy day, when many would normally miss class?
- How to get students from different countries or institutions to work together on the same project?
- How can we invite a teacher from another region, or from different institutions, to work together on a certain project?
- How can we invite a teacher from another continent to give a specific class, without having the additional costs of the ticket and hotel?
- How to help the student who misses classes because he has to make work trips?
The answer to all these questions is hybrid education.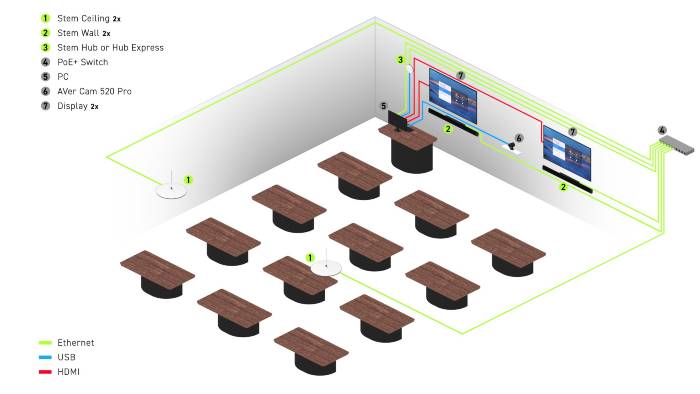 Excluding practical classes, everyone can benefit from a well-designed and implemented system. And to help us, today we have various technologies at our fingertips. In addition to choosing the platform, we must also think about which audio solution is easier to integrate and the one that best adapts to the dynamics created by the teacher during the classes, and that, at the same time, is easy to use by the students.
With this in mind, Shure now has the Stem Ecosystem solution, with which it is possible to project a classroom from a web page (Stem RoomDesign) and calculate the number of products needed for complete coverage of microphones and speakers.
The Stem Ecosystem takes care of all audio processing: echo cancellation, automatic gain control, noise reduction and all the mechanisms that prevent reverberation. Via USB, the system allows you to easily connect to computers in the room, or even to a wireless system of Barco (CX20, CX30 and CX50), for example.
The family of solutions includes a ceiling microphone, speakers that can be installed on the table, wall or ceiling and a speakerphone (microphone and speaker) table and wall, as well as a Control Panel and a Hub that allow you to connect up to 10 computers in the same room.
The implementation is as simple as shown in the following diagram, where we see that, with a simple network structure, we can easily complete the installation and leave the operating room in less than a day. Need to make adjustments to the audio? Do not worry, with the Room Adapt resource the system itself optimizes the DSP to serve the room automatically. With these solutions, IT teams in schools and universities are reduced in effort, and teachers can focus on teaching and learning.
For more information, visit Shure's Stem Ecosystem page and learn about other cases of successful implementations in educational institutions around the world. Likewise, if you have any questions you can contact us directly through my email.
*Fernanda Gereto is Senior Market Development Specialist at Shure Latin America. You can contact her through [email protected]