Colombia. According to the International Energy Agency, buildings consume more than 30% of energy worldwide and it is expected that by 2050, Latin American countries will be responsible for 6% of global use, that is, 40% more than what is currently consumed.
In the context of Colombian consumption, buildings currently represent 7% of national CO2 emissions, a figure that despite being lower compared to other Latin American countries, is taken into account to rethink processes and propose initiatives for the construction sector to migrate towards more environmentally friendly environments and in turn, digital and connected.
In this sense, several public and private entities in the country have already set their commitment in the matter and launched the implementation of solutions to monitor, manage and control systems and equipment of their properties, through a single control center or platform, combining software and hardware and seeking to optimize the efficiency of the constructions.
One of these companies is Terranum, dedicated to the development and operation of real estate projects, which, as part of the innovation in asset management, aims to have smart, sustainable and efficient buildings, which with the implementation of the EcoStruxure Building solution in its office projects of Connecta 26, Cortezza Palmas, Cortezza 93 and in its logistics project ZOL in Funza, it is consolidated as a success story in the country.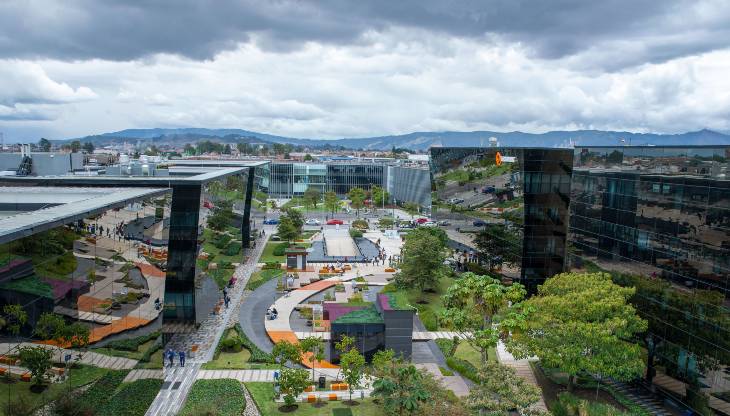 "Large Colombian companies such as Terranum have selected this solution to improve and update the management system of all their buildings. Their choice was based on the system's ability to provide three key results: management and monitoring of all subsystems and devices, a healthier and more comfortable environment for people and also widespread energy savings," says Daniela Mora, Digital Energy & EcoStruxure Director for Schneider Electric's Andean Cluster.
This architecture and building management platform provides an open, interoperable system adapted to the Internet of Things (IoT) which helps companies to have safer facilities, thanks to the early identification of failures, the monitoring of the quality of the environment, reduction of energy expenses and the increase of the operational efficiency of connected equipment.
Additionally, the digitalization of Terranum's infrastructures provides the necessary data to reveal opportunities that, in addition to saving energy, also save money and carbon throughout the operational life of the buildings. There is a potential for a 15% to 30% reduction in carbon emissions.
According to Saulo Spaolanse, president for the Andean Cluster at Schneider Electric, "the plus of these projects in the country will be to contribute to the environment and reduce CO2 emissions, because we must not forget that even the indices affirm that the operation and construction of buildings produce 38% of all CO2 emissions and only 10% of buildings integrate technology and sustainability worldwide"
To conclude, Alfredo Rizo, President of Terranum, affirms, "the implementation of this system helps us to manage our assets in a more strategic, comprehensive and controlled way, offering our clients innovative and differential services that allow us to be at the forefront. With this, we have achieved energy efficiencies of 15% per year, optimize maintenance resources by 10%, solve problems remotely by 30% and increase preventive maintenance by up to 25%."
This is how building management platforms have helped companies around the world to have safer facilities, reduce energy costs, maintain an adequate, comfortable and healthy environment for occupants and increase operational efficiency. The combination of all this work will allow a better efficiency in the engineering of the buildings generating a sustainable development in the sector.