International. AVIXA launched the online platform AVIXA Xchange which it hopes will be a space for interaction and linkage of the various independent professionals, as well as companies, that are part of the AV industry.
The AVIXA Xchange space aims to facilitate global collaboration to connect thought leaders, solution providers and manufacturers with technology buyers. That is, it is a place for the exchange of ideas of all members of the professional audiovisual industry.
So, this digital platform is a space to share experience and knowledge, where connections are also obtained. Within the sections are news and educational content, as well as conversations around structured topics and events. In Xchange there are several channels, which serve to profile the interests of the various segments of the AV industry.
David Labuskes, CTS, CAE, RCDD, CEO of AVIXA, commented: "At AVIXA, we wanted to take up the feelings of bonding, learning, business and camaraderie that are generated in fairs such as InfoComm or ISE and translate them into a digital community that people can have access to all year round. AVIXA Xchange is the place for AV professionals to continue learning and connecting to improve their businesses and careers."
Sarah Joyce, chief global officer of AVIXA, said: "During the year, it's critical to engage regularly with professionals in your industry, not just at an annual event or a scheduled meeting. In that sense, AVIXA Xchange is a digital world to maintain those relationships and build new ones."
Contents in AVIXA Xchange
Overall, AVIXA Xchange content focuses on solutions and content channels include: conferencing and collaboration, content, production and streaming, digital signage, learning solutions, live events/art venues, and the AV business. However, growth is expected, because as solutions continue to evolve, so will the channels.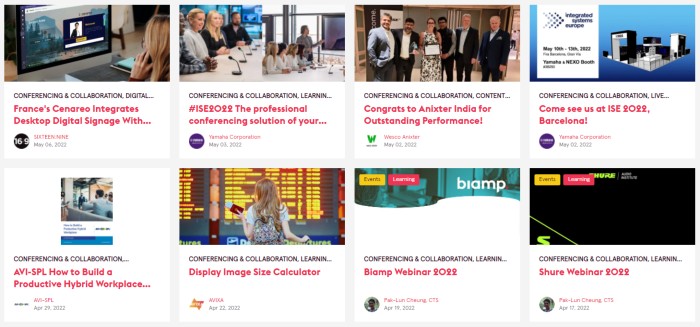 This variety of topics and spaces is fed by the members of the platform, who are responsible for generating videos, articles, case studies and other content. Similarly, anyone can add comments, like, and share content.
In addition, AVIXA Xchange includes a directory of audiovisual providers, where independent professionals can also promote their skills through their profiles and content. Even, strategically, buyers can see the content created by suppliers to know their outstanding projects and the solutions they offer, before starting a direct conversation, which is another plus of this platform.
Finally, next month, from June 8 to 10, attendees of InfoComm 2022 in Las Vegas, will be able to experience this new platform and know its details, if they approach the stand N2845.