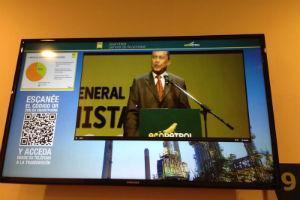 Integrating a digital signage solution with real-time video and videoconferencing systems is the new trend for corporate communications. In Latin America they begin to be implemented.
By Richard Santa
For a company that manages multiple locations, maintaining direct communication with its employees and that they are aware of all the news of the company, can be a wasteful task. The audiovisual industry began to provide solutions to these drawbacks, with videoconferencing and telepresence rooms, and then with digital signage.
These two systems, videoconferencing and digital signage, operated independently. But now they have been integrated to provide complete solutions to internal communications. Alejandro Restrepo, director of the Colombian integration company Segmento Activo, explained to AVI LATINOAMÉRICA what this new integration consists of.
He commented that companies use digital billboards to make internal communication. But there is an alternative that is real-time communication, which has an important psychological component and that is that people know, without thinking about it, that if they do not see it at that moment and then they will not see it, then it makes it more interesting.
In addition, data networks are not enabled for employees to receive such video and audio information on their computers. That's where a digital billboard becomes an important factor because it groups ten or more people in front of it who can see a communication in real time. But the premise is that they are companies that have distributed headquarters.
"What are digital billboards for when integrated with real-time transmission systems? So that people have an additional interest in viewing those billboards and receiving a message that the company is sending them. Hence the need to integrate digital billboards, which usually have pre-programmed content, integrate them into a live broadcast, which can have several sources, such as a transmission of a television program, a football match, an event that the company is doing via streaming or a topic that companies want to communicate from their videoconferencing systems. " he added.
Technical requirements
If the digital signage network from its inception was designed to enable this service, it is very difficult to enable it. Why? The network requires that the hardware that uses digital signage, the digital signage players, already have certain quality characteristics that by this time must all be in high definition, because it is what people are used to seeing. The data network also has to be enabled to allow the distribution of the videos.
Alejandro Restrepo gave us an example: "Imagine a headquarters that has 20 digital billboards throughout the building and if a video signal is sent to each billboard from another headquarters. That signal must travel over the network 20 times. That is why adaptations must be made in the networks so that they have equipment that receives that signal only once and multiplies it by 20 in the digital billboards, making it friendly also to the data network. New networks must have this system suitable, either because it will be used immediately or because it is ready to be used in the future."
This means that a company that has a digital signage network and is not enabled with this system, practically has to reassemble the entire network to enable it, because the players do not work or the network does not have enough bandwidth, they do not have the technology to distribute those video streams in networks that in fact are already very limited.
These integrated systems also depend a lot on the type of technology used by the network provider, which codecs for video compression are used to make the transmission that maintain a very good quality of video consuming low bandwidth, the possibility of multiplying the signals in the same Lan network, among other factors.
"And this is a very important issue. Many projects are stopped because the technology area with knowledge of the subject says our network will not endure. It is important to investigate technologies that receive a single signal and multiply it or that transmit it in a single video stream to a signal that can be seen by all equipment. These new technologies are already available and work in high definition, are network-friendly and allow you to give additional use to network services," said the Active Segment Director.
---
Content Management
For companies, a digital signage system integrated into videoconferencing and real-time communication systems requires the creation of a department in charge of the generation of the contents that are broadcast, both in real time and pre-produced. But if the company does not want to have staff dedicated exclusively to this topic, there are companies in the audiovisual industry that help supply it.
In the case of Active Segment, the company has the digital billboard area divided into two. An area of technology and another of content. "We have seen that in the market there are companies that specialize in one of the two. But if one does not have knowledge of both, in the end the content is not adequate because the quality is not good or because everything you have to make a piece instead of taking the information from a database, integrate new technologies quickly, to transmit videos you must have knowledge about data networks and streaming. All that added up is what makes it possible to have a good quality."
Alejandro Restrepo stressed that normally customers in the past what they did was to order a certain number of pieces per month. Not now, today it is used to build the pieces dynamically, reading information that is dynamic in databases and that becomes as if by magic in very beautiful pieces that the client sees very different but it is a single intelligent piece.
And this is a topic that also occurs in digital signage networks that are not integrated into real-time systems. There are few providers that offer the complete package of integration with databases, with external communication networks, streaming transmission in very good quality on the billboards and even facial detection, which allows you to identify how many people passed and watched or did not, or know if it is a man or a woman and according to the person to issue a content of interest. They are technologies that are highly developed and easy to integrate into the digital signage network.
Active Segment has several representative digital signage systems complete with integration of many technologies. One of them is the Colombian state oil company Ecopetrol, a company that transmits its shareholders' meeting among other events, all in high definition quality and combined with the pre-prepared contents.
And if the existing one is a videoconferencing room that you want to integrate into the new digital signage network, is it possible? In this regard, Alejandro Restrepo indicated that everything depends on the players you have and the data network. Those two factors are what determine whether the change is simple or complicated.
"We designed a system that connects natively with video conferencing and forwards that signal to the different billboards. Therefore, the integration would lie in seeing if the players are able to receive that signal in high quality and if the network also supports it," he said.
This is a very new topic in the industry and there are very few facilities in Latin America. The results of the companies that have installed it are shocking. In the case of a Colombian bank that is a sponsor of football, they had the need to see on the digital billboards the matches they are sponsoring. Before, what they did was gather employees in auditoriums, now they broadcast them on their digital billboards and employees know they can watch the games in any hallway.
Communications Strategy
And doesn't this become a distraction for workers? In this regard, the director of Active Segment stressed that this is part of a corporate communications plan in which you do not necessarily have to be telling workers what the mission and vision of the company is. It is part of a strategy in which it seeks to motivate the worker, who feel good in the company, and part of that strategy is the moment of relaxation, positive messages, and not only corporate issues. That is why many times they see content on digital billboards that have nothing to do with the company but are part of the comfort they want to transmit to the employee.
There are other cases in companies in which videoconferencing and streaming are separated.