United States. The systems of the Aero, Artec, HQ, UX and CL series of DAS Audio are the devices responsible for providing the sound for the matches and events in the nearly 10 thousand square meters of the facilities of the new Overtime Elite basketball league.
To understand this sound solution, the first thing we must keep in mind is that Overtime Elite (OTE) is a new basketball league that from 2021 offers young players (between 16 and 18 years old) the opportunity to participate in their league to obtain a quota in the NBA, in addition to guaranteeing a minimum salary of 100 thousand dollars per year.
So in its modern facilities in Atlanta, which have about 10 thousand square meters, players train, study and compete. Hence the need to ensure an optical sound that serves as support in their matches and events.
Project Details in Overtime Elite
AG Production Services, was the company in charge of building and equipping the new OTE facilities. Andrew Gumper, the company's president and project manager, oversaw the entire operation.
"For the directors of OTE it was important to achieve a state-of-the-art sports facility and also that the venue was equipped with the best sound equipment, paying special attention to the reproduction of advertisements and other information that must not only be adequate in terms of volume, but must be clear and articulated. For this reason, we opted for DAS Audio," Gumper said.
The basketball court is the main space in the building and has capacity for 1,200 spectators, so 32 Aero40A three-way Line Array systems with 12" rear load speaker were used for the reproduction of low frequencies, an 8" for the mid-range and two M75N neodymium compression motors coupled to a BPS2912 waveguide, for high frequencies.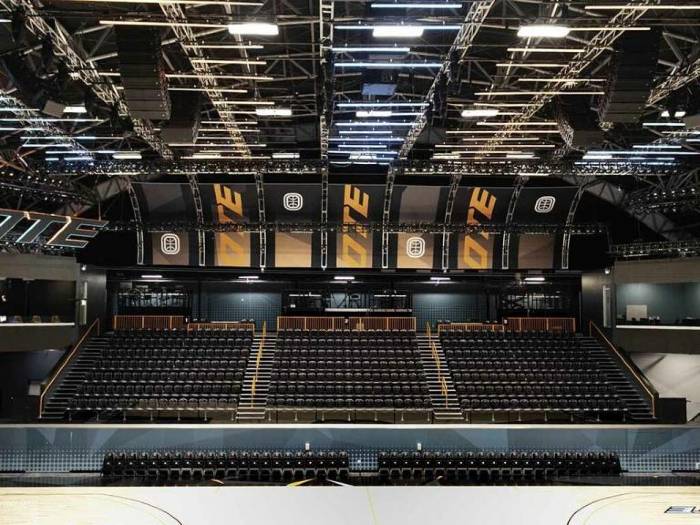 To these devices are added 16 compact Line Array Aero20A with 12" speaker for the low medium range and M75N compression motor for high frequencies; 8 subwoofers UX218A, with double speaker of 18 "with front load in cross-throw configuration, responsible for low frequencies.

The OTE facility also includes a gymnasium, training tracks, classrooms and offices. In these areas, AG Production Services used 12 Artec326 point source enclosures with dual 6" drivers for the low frequencies and M26 compression driver for the high frequencies.
Similarly, in these spaces were installed HQ212.64CX 2-way long-throw systems with two 12" speakers with diffuser for low frequencies and M78N neodymium compression motor for the high frequency range. In addition, 96 CL8 ceiling speakers with 8" coaxial transducer were arranged throughout the facility.
Gumper explained that he has always preferred it as the quality of DAS systems for its very natural and clear sound, as well as for its dispersion characteristics. In that sense, he highlighted the technical and customer assistance services, as they were especially important to meet the deadlines of this project.
Finally, the director stated: "The new sound system has been absolutely incredible. Our customer is delighted with its performance and capacity. The levels are uniform throughout the basketball court and the announcements are clear, no matter where one is sitting. It has been a pleasure to work with the entire DAS team and especially thank Carlos Henao, U.S. Production & Touring Manager, for accompanying us throughout the project. In both products and technical personnel, DAS Audio is hard to beat."