The Mexican company Grupo Covix continues its commitment as an integrator of technological solutions for visualization and collaboration.
Andrea Ochoa
In the ever-evolving world of technology, few companies have managed to stay relevant and leaders in their field for decades. Grupo Covix is a clear example of a company that has managed to thrive and set trends in the technology industry throughout its 40-year history.
In a milestone that marks four decades of innovation and vision in the technological world, Grupo Covix, founded on November 7, 1983 by visionary entrepreneur Carlos Alcázar Barragán, has forged a path of success in the industry, leaving a mark on the evolution of technology and integration.
The history of Grupo Covix dates back to a time when audiovisual technology was in its infancy. "There was practically no world of projection and audio integration back then," recalls Juan Carlos Alcázar, the company's current leader and the founder's son. In the 1980s, the idea of automated boardrooms and high-definition projections was a bold and unconventional vision.
At the time, the company emerged as a player in the sale of mainframes, those computers that found their home in the banking sector. "They used to sell HP computers to banks," recalls Juan Carlos Alcázar.
However, the vision of Carlos Alcázar Barragán, the company's founder, was about to take a turn. On a trip to Europe, the entrepreneur had an encounter with the technology that would shape the future of the company. "He saw for the first time a projector connected to a computer and projecting in a meeting room," Juan Carlos Alcázar reveals. "Although the brightness of that device did not exceed a modest 200 or 300 lumens, its potential was evident." It was the birth of the idea that would transform Grupo Covix.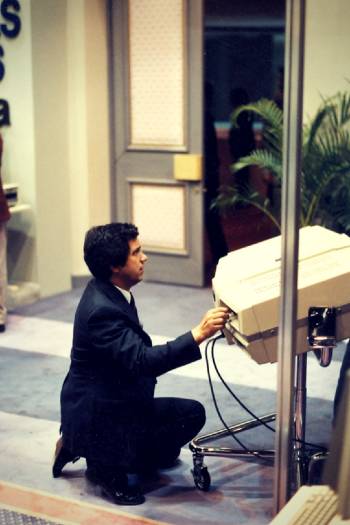 Determined to bring this innovation to Mexico, Carlos Alcázar Barragán took over the representation of a Canadian brand of projectors called Electrohome, which later changed to Christie, Juan Carlos Alcázar points out. The Canadian company, which specialises in cinema projectors, decided to expand into the field of computer projectors. This decision would pave the way for the evolution of projectors as we know them today.
Electrohome projectors, with their distinctive three-barrel technology and cathode ray tubes (CRTs), became the focus of the company. "They were three-barrel projectors," says Juan Carlos Alcázar. These devices, which converged red, green, and blue beams of light to form an image, became the forerunners of modern projection technology.
The alliance with Electrohome, which at the time had exclusivity for Mexico, marked a turning point in the history of Grupo Covix. The decade of the 90's brought with it an opportunity that would change the course of the company: the need for Teléfonos de México (Telmex) to establish a monitoring center to oversee its operations nationwide.
With the support of American Video Communications, a U.S. company, Grupo Covix established its first monitoring center. This center, located in Mexico City, has been renovated and updated over the years, remaining a testament to the company's capacity for innovation and constant renewal.
As a pioneer in the AV and collaboration solutions industry, Covix Group calls itself "integrators of technology solutions for visualization and collaboration." As stated by the company on its official website, this approach goes beyond the mere installation of equipment; The company is committed to the entire process, from planning and engineering to the implementation and maintenance of each solution.
Diversification and expansion, the innovation that Covix is committed to
As the technological world evolved, Grupo Covix also diversified its operations. Through strategic acquisitions and partnerships, the company expanded its product portfolio to span everything from software and cloud services to renewable energy solutions. This diversification not only strengthened Covix's position in the market, but also demonstrated its ability to adapt and thrive in different sectors.
It is worth remembering that since the mid-2000s, Grupo Covix has been involved in the installation and development of security-oriented monitoring centers, known as Command, Control, Communications and Computing Centers (C5). As government institutions sought to strengthen their surveillance and response capacity, Grupo Covix became involved in the creation of these centers that play a vital role in public safety.
However, the challenge lies in how to clearly define and communicate what Grupo Covix does in a diverse market. "Explaining what a Pro AV integrator is is unfortunately very complex," admits Juan Carlos Alcázar. "The company not only specializes in monitoring and security centers, it also offers solutions for areas as diverse as digital signage, broadcast and boardrooms with platforms such as Zoom and Microsoft Teams."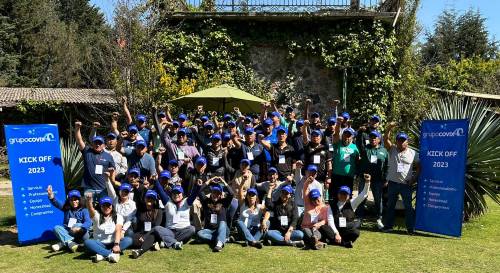 Today, Grupo Covix's operations are not limited to a single location. The company has offices in Miami, Panama and its center in Mexico City.
The evolution of the Covix Group has not only been in terms of services, but also in terms of geographical scope. With around 50 employees in Mexico, the company has established offices in Guadalajara to serve the Jalisco region, Monterrey to serve the northern part of the country and has expanded its operations to Panama and Miami. These expansions have not only been strategic but also functional, allowing for a greater focus on customer service and logistical optimization.
Covix Group's vision for the future is marked by consolidation in the industry. The trend of tech giants coming together is on the horizon, redefining the competitive and collaborative dynamics in the sector.
New technologies, a commitment to the evolution of the market
The consolidation process that has gained strength in different sectors has also been felt in the technology industry. In this sense, Juan Carlos Alcázar comments on the impact of HP's acquisition of Poly, which implies a transfer of businesses traditionally in the hands of integrators to the sphere of compute integrators. This merger of industries is creating a new paradigm where lines of business are redefined and roles are reassigned.
This phenomenon of consolidation is not only limited to the field of communication technology, but extends to multiple aspects. Juan Carlos Alcázar points out that these transformations will be marking the next decade, and in this context, vigilance and adaptation will be key to surviving in a technological ecosystem in constant metamorphosis.
Advancement in technology also brings with it the democratization of capabilities that were previously reserved for specialized teams. Juan Carlos Alcázar mentions as an example, noise cancellation tools, which in the past required expensive audio processors, can now be configured through software on platforms such as Google Meet. Not only does this phenomenon expand the possibilities for customization, but it also challenges the industry to continue creating value in a more accessible environment.
The evolution towards IP protocol (Internet Protocol) in the A/V industry is another trend that is becoming relevant. AV over IP, dominated by an IP infrastructure, is gradually displacing the old standalone AV solutions. This convergence becomes a challenge and an opportunity for the industry, where learning and adaptation are essential to stay competitive.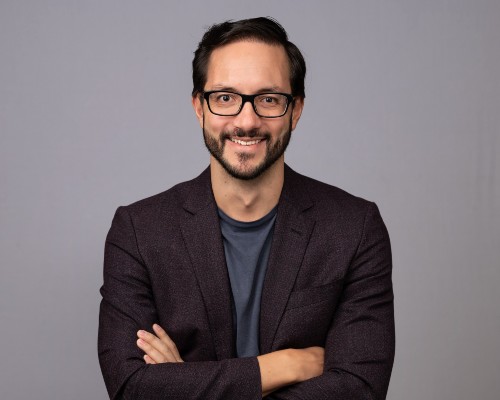 Partnerships also emerge as crucial elements in this dynamic landscape. Grupo Covix is a member of the PSNI Global Alliance (Professional Systems Network International), one of the largest alliances in the world that brings together integrators and manufacturers with a common goal. Juan Carlos Alcázar highlights how these alliances have "allowed the company to participate in global projects and collaborate in large-scale initiatives".
At the center of these trends and transformations is Grupo Covix, a company that has demonstrated its ability to anticipate and adapt to changes in the industry. Juan Carlos Alcázar's perspectives highlight "the importance of strategic vision, collaboration and constant innovation in the journey towards a technological future in constant redefinition".