Latin America. Miraculous Supernatural Tour was what Carlos Santana's most recent tour was called. To complement this artist's show, lighting designer Michael Ledesma was appointed.
"When you light up Carlos Santana you have to be alert. Everything changes in a penny. A set list comes out before a show, but it's just a suggestion. We don't know where it's going at any given time. He starts a song, but then he moves on to other songs within a song and the band follows him and so do we," Ledesma said.
Known for his spontaneity on stage, going in and out of his huge catalog of hits, Santana is one of the most successful guitarists of all time. "That's what he loves and we're just enhancing the whole feeling with light and color," says Ledesma, who has been illuminating the guitar legend for nearly a decade. "It doesn't need to have many effects, so we seek to emphasize the solos and represent the feeling of music with light. We're not trying to master the music, but to support it visually."
After a series of spring shows, Santana toured the U.S. from June 17 to August 27 on his "Miraculous Supernatural Tour" with the opening act Earth, Wind and Fire. Key to Ledesma's design were the Elation Protron Eclypse™ hybrid LED luminaires and the SEVEN Batten 14™ LED light strips, working with a full moving head platform and a background LED display. Both luminaires gave the designer many possibilities to complement the artist's signature guitar riffs through his characteristic use of vivid colors.
The "Miraculous Supernatural Tour" set was a compact system, about 60 feet wide with the sides tilted by about 30 degrees. Multifaceted to take on a number of roles on a platform, Protron Eclypse's total output of more than 27,000 lumens made it an effective washing luminaire in the program, according to Ledesma. "I got the first batch of Protron Eclypse in 2019 and since then they have been reliable workhorse accessories," he said. "In this show, I was able to remove the other lights and get a big uniform wash throughout the stage."
The designer placed 10 Eclypse luminaires at the bottom of the stage, spread over a 4-spoke curved frame to form a semicircle, with 14 units at the top of the stage located just below three horizontal strips of LED panels. The units at the back of the stage colored the audience with energetic chases when asked, while the second-floor units washed the band and provided chase and strobe effects. Based on his years of experience in lighting design, Ledesma says he used various tactics to give the impression that there were more lights on the platform than there actually were. "I would turn on half of Protron's 96 cells for one look and then the other half for another look," he explains, "or turn back and forth or up and down." In addition, he says that with the units below the stage mounted vertically and the top units mounted horizontally, the impression was of two completely different accessories.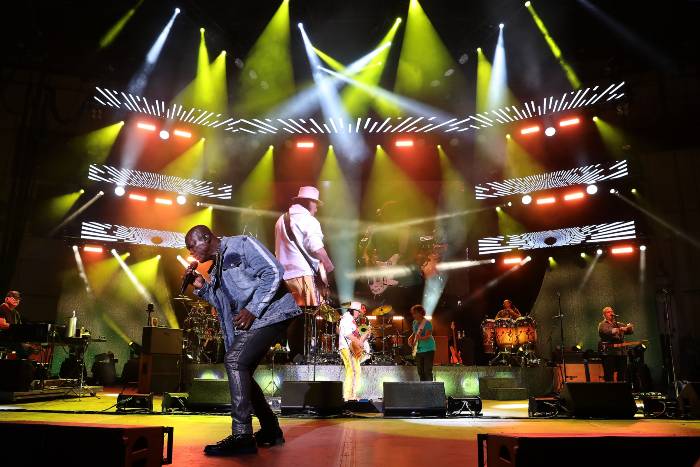 Mounted below the led background display was a row of 12 strips of SEVEN Batten 14™ LED lights that the designer used for a variety of color looks, sequences, pixel map effects, and low backlight in the band. On the floor at the back of the stage there were more SEVEN Battens washing the set, instruments and musicians to chin level. "They're a lot brighter than the ones I was using before," Ledesma says. "They have great color and are a good shocking light for their size. It provided a good front light, but it wasn't overwhelming."
With their RGBW and RGBAW + Lime + UV arrangements respectively, both Protron Eclypse and SEVEN Battens gave the designer a huge variety of color options to emulate and complement the content. "If you look at Santana's artwork, it's very colorful, color mixing," Ledesma said. "With these two accessories, I was able to mix the color without it getting muddy."
Santana still loves touring, but when he's not touring, he plays at his House of Blues residence in Las Vegas, where he also performs under a Michael Ledesma-designed team with Protron Eclypse and SEVEN Batten units. As with the House of Blues shows, Innovative Concert Lighting served as the lighting provider on the "Miraculous Supernatural Tour". Santana is currently playing at House of Blues in Las Vegas through mid-November.