Europe. The adult college in Barking and Dagenham, east London, implemented Avocor solutions in its digital transformation centre to engage learners and ensure they have useful tools.
This educational institution, whose philosophy is "A municipality, a community, that no one is left behind", allows lifelong learning and fosters social commitment, for more than 30 years, offering courses for adults focused on personal development, work and leisure. Currently, it has more than 1,500 registered students and offers a wide range of educational options, ranging from day courses and even professional support.
Jagdeep Aujla, IT director of this training center, explained: "At the beginning of 2019, we started an institution-wide technology upgrade project, upgrading our existing hardware solutions as part of an initiative. The idea was to move away from projector screens to offer more interactivity and ultimately make classes more engaging to our student community, encouraging greater student engagement."
That is, alongside a campus-wide deployment of Microsoft O365, Aujla was interested in implementing interactive solutions that could seamlessly extend the Microsoft experience from personal devices to learning environments. I also wanted solutions that offered an open platform for working with legacy applications, in the classroom and remotely, as blended learning options increased in college.
To achieve this, IT services partner Vanquish Technologies initially installed 12 Avocor E-series displays in all teaching spaces, to which three more will be added in 2021.
Aujla underlined key reasons behind this choice. Flexible functionality with different programs, sufficient connection ports for multiple devices and technical support received.
However, in the immediate benefits, both for teachers and students, Aujla highlighted: "As the screens are tactile, they are much easier for tutors to use. They don't have to move around the classroom, back and forth looking for the keyboard, as they would have done with the projector screen, but they can simply pick up the pen in the room, stay at the front and write down wherever they want. Annotation tools are really useful."
To this he added that tutors can also use their own laptop with the whiteboards of the institution. In addition, any external provider or trainer who makes a visit can connect, have ease of annotation, as well as the operation of video and sound.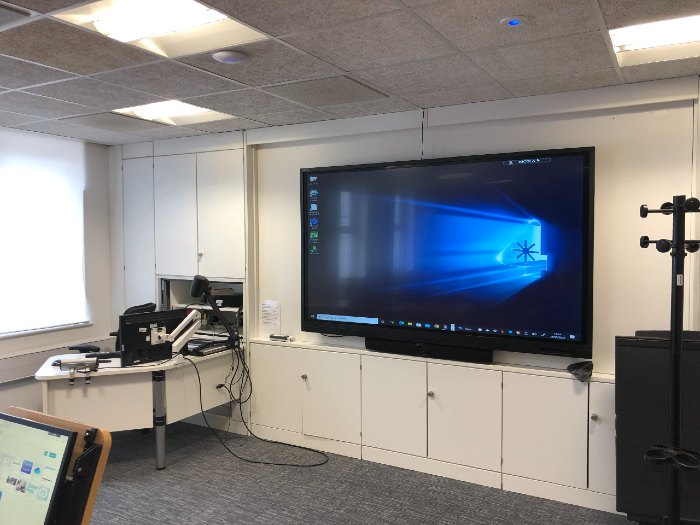 Pandemic time
Something particular in this case is that, shortly after the first screens were installed, the pandemic occurred due to the COVID-19 virus and the associated closures. So the students were unable to attend the classes in person. Although this shift to distance learning caused problems for many schools, the technological upgrade allowed the Adult College of Barking and Dagenham to adapt quickly.
Webcams were then installed that allowed students to teach remote classes, so a migration was made to the hybrid model, as restrictions were eased.
"We made sure that no students were excluded, providing students who did not have internet access with wireless dongles and webcams so that teaching staff could continue to interact visually with them. We also bought hundreds of laptops and loaned them, all of them pre-configured, so that students only had to connect and could access everything they needed to learn."
Thus this institution maintained 90% of its classes during the first wave of restrictions, while other local authorities in London had to completely disconnect adult learning programs.
Extra benefits
So, as Aujla comments, "The choice of Avocor displays meant that we had an on-site solution that was fully adaptable to learning requirements. The solutions are incredibly intuitive. Our teaching staff witness the advantages of delivering learning outcomes. Integration with the Microsoft suite provides a seamless transition for both students and teachers."
Looking ahead, the school hopes to continue with a hybrid learning offering.
Now that they have returned to the face-to-face format, the hybrid model has not been left aside. Because the closure showed Adult College other ways to teach and learn, where you don't need to be in a classroom at a certain time. "Without a doubt, this academic year that flexibility is helping us attract more students."
Screens are used in all subjects, but have proven to be especially popular in teaching basic subjects such as mathematics.