International. The Crestron Sightline room offers to solve the challenges of hybrid meetings and relies on Crestron's core platforms, to create an ideal meeting experience, where all attendees get audio and video quality.
Meeting solutions for hybrid work environments today must solve technical issues and provide a quality experience, for those who are in person and the people who access the meeting remotely. This includes access to excellent quality images and good sound, whether they are listening or making a contribution.
To address these challenges, intelligent video solutions are at the core of all Crestron Sightline rooms. In them the speakers are followed and framed actively, while the multiple screens offer better visibility of the remote participants, creating calls with a more equitable participation for the attendees.
Brad Hintze, Executive Vice President of Global Marketing at Crestron, commented: "Hybrid work has opened up many opportunities and, over the past two years, we have learned to leverage technology to stay connected, even when physical proximity is not possible. However, this style of work also creates a different subset of challenges to the meeting experience, especially in larger rooms. Sightline lives up to our legacy of making the complex simple; it really creates an inclusive hybrid meeting experience in every space."
Lauren Simmen, Crestron's Director of Commercial Product Marketing, said: "Crestron's engineering team applied known solutions with existing technologies to solve the new challenges of modern work. Everything we know is problematic with hybrid meetings is solved by applying the fundamentals of the Sightline experience."
In general, Crestron's Sightline rooms use other technologies of the same brand. Namely: Flex Digital Workplace, DigitalMedia Content Distribution and Control and Management.
Technical specifications of the Crestron Sightline room
Crestron Flex Digital Workplace technology delivers intelligent multi-camera video in a fully automated experience. This includes the Beyond AutoTracker, a tracking option so that the presenter can move freely; the Beyond AutoFramer that frames the participants; and Beyond's PTZ cameras, which are responsible for providing dedicated video to each participant. This solution is especially useful for Microsoft Teams or Zoom Rooms
In addition, the Crestron AirMedia wireless presentation makes it easy for participants to connect and share content.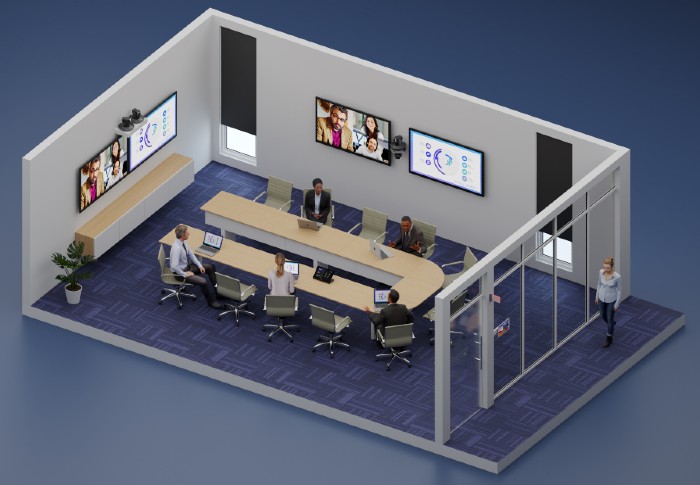 Now, the distribution of content comes hand in hand with the DigitalMedia Content Distribution solution, in this the Crestron DM NVX AV-over-IP technology is used, which allows you to distribute content and video sources to multiple screens throughout the room, either through the network or locally in the room.
Likewise, crestron DM content distribution provides shared content from the network and distributes it throughout the room.
Finally, Control and Management uses occupancy sensors to determine when there is a presence in the room and activate the Crestron control system. In that regard, the Crestron XiO Cloud technology operations platform provides monitoring and management of all workplace technologies, including ambient control of lighting, blinds, and temperature.