The return has been gradual. From social events of 50 people to the massive ones with more than 80 thousand. All of us who are involved in some way have to do our part.
By Rubén Álvarez*
It was Sunday, March 15. In the news they mentioned that Gustavo Santaolalla, Enrique Bunbury, Rodrigo and Gabriela, among others, canceled their participation. It was perhaps the VIVE LATINO festival of 2020, the last to be held globally before the total closure.
I was preparing to attend as technical support for the festival, as I had usually done during the previous years. But now, the atmosphere was very strange. With some fear I went to the calls. As they say, "The show must go on."
For the next few months everything was uncertain. The entertainment industry completely collapsed. Engineers, technicians, staff and rental companies had to adapt to the new challenges, while taking care of themselves. Streaming became the best alternative. In fact, it still is, but it is not the same to listen to live music than through a computer or a screen, even if you have the best Hi-End audio system. The thrill of singing, jumping and dancing at your favorite artist's show doesn't compare to anything.
Live audio companies looked for alternatives. That if the self-concerts, that if the bubbles, that if the separation between people, with the minimum number of attendees. There were many experiments trying to go back, but we all know that only time and vaccines would help. Other types of events have already begun. Political and corporate events are also part of this new way of working. Definitely, it was urgent to return.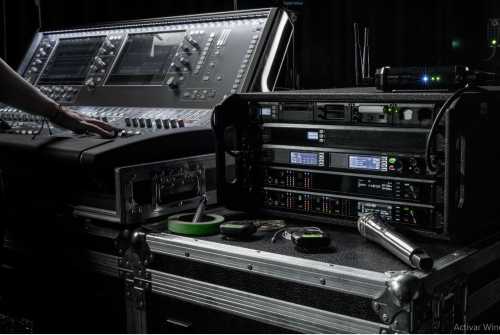 The return has been gradual. From social events of 50 people to the massive ones with more than 80 thousand. All of us who are involved in some way have to do our part. From a technical point of view, audio professionals made the most of the courses that were available. While the shutdown took place, we all trained, and companies like Shure with the SAI (Shure Audio Institute), were there to support us for free. Not everything has been bad. Various brands, associations and individuals took advantage of digital media to share knowledge and experiences. Undoubtedly, those who did not take advantage of them will have lags in labor competition.
Talking with people from the medium, mainly from live audio and the show, a boom is expected in the coming months, since people need to go out, express themselves, live ... perhaps 2022 will be the year with the most events. International artists and productions are already announcing the upcoming tours of various countries. Local providers must be prepared to offer the best service.
On the other hand, the technology did not stop. In the case of radio frequency (RF) issues, the coexistence of wireless microphone systems with digital communication was complicated. Some TV channels were rearranged. They have "cleaned" portions of the spectrum to give input to other RF sources. In all countries this migration is already forcing many suppliers to renew their equipment. Wireless microphone equipment, with the best spectral efficiency, is the solution.
Control and networks have increased. The new teams are prepared for the challenges that the productions demand. For example, companies have realized that now, a concert can be seen live by a number of people in person, but it will also be broadcast anywhere in the world with greater comfort. We come to the era of hybrid concerts. A next-generation wireless microphone, such as Axient Digital, offers several simultaneous audio outputs to solve that need to diversify applications. We already have portable receivers, such as the ADX5D, ideal for stages, sports stadiums or any other concert space. Anyway, we are prepared and eager for this return!
We envision a great future. Art and technology cannot be separated. The entertainment and live audio industry returned stronger and we are ready for it.
PS. I write all this while I return to support the Vive Latino Festival 2022 in Mexico City, which featured more than 400 channels of Axient Digital and PSM1000 in its six stages.
*Engineer Rubén Álvarez is a Market Development Specialist at Shure Latin America