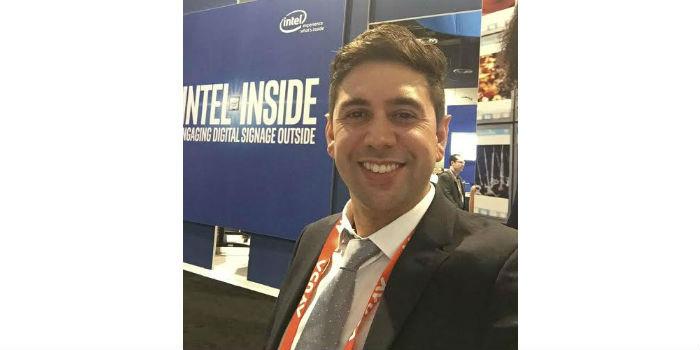 A project that is less ambitious in scope, but that works properly, is preferable. There are customers who want to put many screens with little budget and end up with a solution that does not respond to realities.
Richard Santa
Digital signage is a technology and a type of communication that has not been developed so much in Latin America as in Asia or Europe, although in recent years it has shown strong momentum in the region. To understand the reason for this situation, AVI LATINOAMÉRICA spoke with Luis María González, an expert in digital signage with extensive experience both in Argentina and in the region.
Our guest is the founder of Convergencia Digital Signage, an Argentine company that has been developing digital signage in his country for 9 years, with about 9,000 screens installed, and in the last year has begun to expand in different countries of the region.
For Luis, one of the main problems with the development of digital signage in Latin America is that projects, when they have a partial focus, end up failing. The partial approach may be that they are interpreted as technological projects in charge of the IT department and that they are offered as a complement to other solutions that are being developed. They end up being very solid projects technologically but do not respond to the need of the user.
"Generally they are the area of marketing, communications or an agency, in charge of the contents. The opposite also happens, when projects are led by marketing or communications, they are very well achieved, with good aesthetics, but with deficiencies in technology. I know many projects that due to these conditions have failed in Latin America. That's why it's important to have a comprehensive project," he said.
Internal communication and with the integrator
With his experience, Luis María González identified that in companies projects are not shared between the IT and communications departments and each one has its management very marked. It suggests that when proposing a digital signage project, the integrator must interpret the needs and requirements of each of the departments within the company, to meet the requirements that are generally opposite.
He mentioned that "when they call us looking for a digital signage solution, many times customers have not defined what will be the use that will be given or the communication plan that will be implemented. It usually happens that marketing people ask for a solution and IT people go out to buy and after 6 months or 1 year they realize that it does not meet the needs of the company."
The matter is directly related to customer planning. Sometimes they buy screens before defining the why, how and when. In poster projects it does not always happen but it is very common. The integrator must advise its clients on all the scope of the solution so that they make a correct decision and with the needs sustained over time.
Another case that unfortunately occurs a lot in Latin America, due to poor advice from the industry or poor customer planning, is that they do not size the size of the solution and use software with a capacity lower than required or without taking into account future growth, generating management and operation problems.
"It's more common than it should be. Unfortunately, in Latin America budgets are limited and companies try to do more with less investment. There are some aspects in which more can be done with less, but others cannot and that difference is often not taken into account," he said.
In addition, in the region there is a delay in the development of networks. Even in the most developed countries in the region, such as Brazil, Peru, Colombia, Mexico. An example of Luis María González is the data signals on mobile devices, in the capitals the connectivity capacity is being lost in some areas. The same happens with the networks, in the capitals there are good facilities but going out to other cities they are old or of low capacity.
---
Dynamic content
One of the trends that the director of Convergencia recommends for digital signage networks is dynamic content, that is, pre-designed content that the public perceives as a video or static images, but in reality it is a content made by layers. In this content there are layers that can be edited independently.
As an example, he argued that for a retailer that wants to publish a discount or special offer for the day, with its content assembled by layers, the customer can change the text and image information simply by updating a table or automatically with the data in a management system. In this case it is not necessary to edit videos and reschedule the content on the air.
"This generates up to 90% savings in network traffic and makes a difference, making projects viable when in the traditional way they were not. There are different ways to make dynamic content. The content can be static, in video or html5 formats. For the customer the user experience is the same, both for animated video or dynamic format."
Countercyclical business
On the growth of the business in the region, Luis María Gonzalez mentioned that in Argentina, during times of the economy that was very good, they did not have good results. During the consumer boom, supermarkets and stores were selling a lot, there was a great boost in mass consumption trends and at this time supermarkets thought it was not necessary to invest in digital signage because they were already selling without the need for the solution.
"Many times our business has to do with countercyclical conditions, and when consumption falls, customers look for ways to sell more, reaching the end user better. Those moments are where the best opportunities arise for us. Today Latin America is going through a difficult situation in some countries, which have more to do with political issues but end up affecting the economy. In general, we see that there are still good opportunities both in Argentina and at the regional level," he said.
He added that the advantage is that customers who invest in digital signage have an assured return. "In addition, regardless of how much economies grow, digital signage is a bit behind other regions, but that delay can be quickly compensated because in the region we are technological and we will end up reaching the trends of other parts of the world."
To be taken into account
To conclude, Luis María González highlighted four fundamental points that any integrator must follow to
1 Define what the objective of the digital signage solution is. On this objective work on the planning and dimension of the solution.
2. Do not underestimate the Latin American context and do not generate oversightends of technology. We must take into account the challenges of launching these projects and coordinate tasks such as: implementation, planning, networks, content development and joint tasks between different areas.
3. Less is more. There are customers who want to put many screens on a budget and end up with a solution that does not respond to realities, such as using smaller screens or televisions. A project that is less ambitious in scope, but that works properly, is preferable.
4. Take advantage of the most modern technologies and try to work with dynamic content, which allows you to update a lot of content with low cost and use of networks.