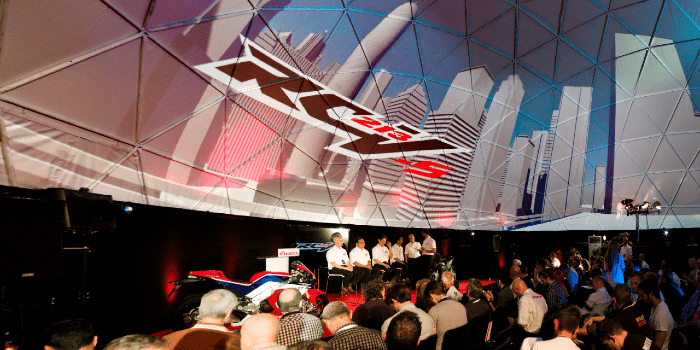 It is clear that the market for giant screens in domes and planetariums must improve its offer to, at least, keep pace with the commercial cinema market and attract audiences to its theaters.
Clayton Brito*
With 4K and 8K TV already in homes and 4K projectors running in standard cinemas, is 4K the right resolution to ensure that unparalleled experience that giant screen displays – such as domes and planetariums – need to attract viewers to their theaters?
What factors have the most impact on the resolution that the viewer perceives on screen?
When talking about performance, the simple use of the expression "4K resolution" can be totally simplistic, since it excludes other types of factors that affect the final resolution of the system and, consequently, the image quality perceived by different viewers.
Those factors include:
› Critical aspect: No projector chipset for 1.43:1 aspect ratios
› Greater vertical viewing angles in domes: good viewing angles up and down are required
› Lens degradation: Projector optics can have a big impact on focus, clarity, sharpness and contrast
› Display: Screen surface finish and punch holes for sound scatter light and somehow degrade the viewer's perception of system resolution
› Seating position: the location of the seat may affect the final perception of resolution or sharpness
› Camera used in the filming of the film and the post-production process: both factors affect the final resolution of the system
How much resolution is enough?
The equivalent resolution of 70 mm film and 15 perforations is 18 to 36 megapixels accessible (on screen).
The minimum acceptable resolution to replace the film is about 22 megapixels. That level offers the viewer an experience minimally comparable to that of the film, regardless of the seat they occupy. The 4K resolution (4096 wide x 2160 high) is simply too low to ensure a good result.
Everyone knows that resolution is much more decisive in the case of domes than in flat screens.
Stretching the number of pixels of a single 4K projector in a dome leads to excessively large pixels, whose size will distract even the best placed viewer and that the viewers located on the sides will perceive even with a worse quality. It is also a significantly lower resolution than that of 70mm film and 15 perforations.
Here's an example that explains why installations with multiple projectors look much sharper than installations with a single 4K projector:
Three 4K projectors in blending and portrait mode A single 4K projector in landscape mode
› 5700 pixels wide x 4096 pixels high › 4096 pixels wide x 2160 pixels high
› total 22 accessible megapixels › total 8.8 total accessible megapixels
The impact of anamorphic lenses on images on giant screens
In the real world, no matter where we turn our heads, our visual acuity remains unchanged. In other words: the sharpness with which we perceive vertical, horizontal lines or angles does not change (vertical resolution = horizontal resolution). If we want to reproduce what we see naturally, it is convenient to use square pixels, and not rectangular. To avoid distortions, it is also key that the shape of the pixels in the film capture corresponds exactly to that of the projected pixels.
Some cinema systems use anamorphic lenses (also called "fisheye lenses") to stretch images of the projection. If we carry out that action in digital projectors with DMD of square pixels, those pixels are elongated, ceasing to be square on the screen. The result is the loss of uniformity in resolution, which will decrease in the direction of stretching.
That circumstance would indicate that systems that use standard non-anamorphic lenses and square pixels offer greater image fidelity than those that use anamorphic or fisheye lenses in domes.
In addition, if the various projectors of a blending system use standard lenses, each of the lenses provides a more uniform resolution, a lower heat load, better depth of field and an overall image quality superior to that which any anamorphic lens is capable, on its own, of generating in a dome.
Conclusion
It is clear that the market for giant screens in domes and planetariums must improve its offer to, at least, keep pace with the commercial cinema market and attract audiences to its theaters. Taking advantage of the possibilities offered by screens with multiple projectors to provide an immersive and sharp experience more true to reality could be one of the keys to providing the wow effect that audiences crave.
*Clayton Brito, director of Christie's Enterprise division in Latin America.