Sergio Iván Galindo Morán, founder and general manager of Vosmedia, is passionate about entrepreneurship and knowledge, especially electricity as an area of study.
By Iris Montoya Ricaurte
Sergio was born in 1972 in Guatemala, specifically in Mazatenango, a city, 3 hours from the capital, with important trade dynamics due to its proximity to Mexico and because, during the twentieth century, it was the crossing and meeting point of the Southern and Western railways. In his family he ranked second out of four children, two men and two women who had their parents.
As a child he had a marked taste for what we would now call home automation, because he invented, in a rudimentary way, with what he had at hand, controls for the entrance to his room. He also devised a central control for lighting, as well as gadgets for telephone connectivity and for the community television antenna in his home.
In general, it can be said that part of his personality was shaped by his education, where he found his vocation at an early age. In the basic, from grades 7 to 9, he studied at an institute where he was able to try 12 different vocational areas, of which he opted for the learning of electricity. The years that followed, in the baccalaureate, corresponding to grades 10 to 12, he received training in a technical institute with post-war German pedagogy, where he also had teachings in the field of electricity, with the particularity that the methodology of that institution was 2/3 practical and 1/3 theoretical.
His higher education took place at the State University, years in which he continued to cultivate his academic hobby acquired by choosing electronic engineering as a profession. However, he had to overcome a great challenge during that time, in which he had to show fortitude to achieve his goals, because at the same time he studied he was a full-time worker.
Therefore, some time later, when he decided to do a postgraduate degree, he changed his strategy and took a work break, so that he could devote himself fully to his Master of Business (MBA) with a specialty in entrepreneurship, which he studied at the Tecnológico de Monterrey, at the EGADE campus in Mexico, where he spent 18 months.
Now, when talking about his working life, Sergio divides this experience into two major phases; first he was employed, then he became an entrepreneur and entrepreneur. As an employee he worked for 16 years as an industrial automation integrator for Siemens and Rockwell Automation, in this company with Allen-Bradley products.
Subsequently, he saw the need to give a professional turn to his life and undertake, for which he prepared for 18 months, just while studying his MBA, to launch VOSMEDIA, initially as a project to formalize his offer as an integrator, which over time grew to consolidate itself as a company that, today, has 27 employees and 17 years in the market.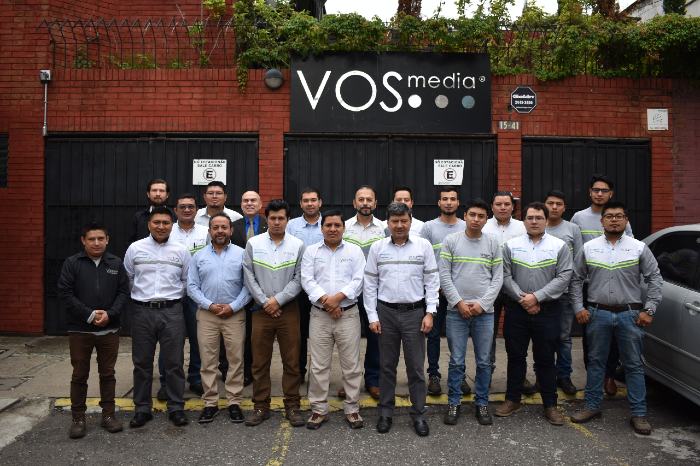 Entry into the AV industry
Sergio says that during his stay in Monterrey and Mexico City he had the purpose, as a personal challenge, of knowing different industries. They highlight the telecommunications and microprocessor industries, logistics supported by RFID technology, robotics, biomems (micro electromechanical biomedical systems) and multimedia, which includes audio, video, lighting and automation. "For this I participated in different congresses, seminars, exhibitions, launches, fairs and exchanges. To conclude that, although together they were emerging and of great potential, not all of them were classified in what I needed to achieve a momentum of opportunity in my country, Guatemala. That's why I decided on the multimedia industry, focused on home automation and inmotics."
Between the personal and the professional: future challenges
Regarding his personal challenges, this engineer admits that "for an entrepreneur and entrepreneur it is difficult to separate their roles with those they have in the company, because they are closely linked. However, it is beneficial to be able to do so. So I would like to have more time to get to know places, people and new opportunities, without having a commitment to fulfill a comprehensive work agenda."
Delving into the professional field, Sergio is emphatic that the current change of economic and social paradigm has renewed the ways of interacting in the various commercial scenarios. "Previously, business models could last for decades. However, the pandemic came to demand radical changes in business, so the steps that we did not dare to take for years, we are now taking them and waiting for urgent results."
He concluded that, in his role as an integrator for multimedia projects, he faces daily with the moderation of variables that overlap, for the moment, in an unharmonious way, with a great tendency to the local:
"It's like we woke up from a 2-year nightmare to find that everything changed. We have the needs of increasingly demanding customers, for good, beautiful, cheap, fast, accessible, modular, flexible, agile and cloud solutions. At the same time, we must negotiate with the capabilities of manufacturers, which remain slow, expensive, conditional, restrictive and contractual. On the other hand, we face these two constants in a logistical, economic and geopolitical intermediate that does not finish rising, which even proposes a return to the regionalization of products and services, which requires local skills that we had not developed, due to the globalization to which we had become accustomed and that we were promoting. "
For Sergio, the pandemic exposed the supposed advance that we believed we had achieved in humanity and represented a 'watershed' in our history, which involves the great unresolved human needs (such as health, education, transport and work), the great technological offers that are not very inclusive (where he names the IoT, 5G and the metaverse), with the great gaps in integral human development. "
Finally, in terms of his goals, Sergio says, from the professional area, that he has his sights set on expanding his company and eventually having new ventures.
From office grey to forest green
From time to time Sergio Galindo, changes office spaces for scenarios where to get lost in a palette of green tones, as he combines his work with outdoor activities, where the urban environment is non-existent and nature conquers the limit of the horizon.
The founder of Vosmedia says that his hobbies include walking and exploring natural places, such as forests, jungles, mountains and rivers. Journeys he makes with his wife Martha Beltrán and eventually with his nephew Luis Fernando Galindo, with whom he shares this taste. He says with affection that their marriage, a union that occurred when both were in their 40s, has turned them as a couple into a kind of walkers, as they enjoy landscapes, historical places, artistic spaces, museums and concerts together.