Mexico. After a long history in the security sector, the company Hikvision, presented its new and complete range of commercial displays, which marks the entry into the commercial digital signage market as a new business area.
The company seeks to take advantage of the growing demand for viewing high-quality content, immersive sound and video from the market from business and public safety organizations, advertising companies and the entertainment industry.
Digital signage solutions for every need
According to QY Research's report, titled Global LED & OLED Displays and Lighting Products Market Insights, Forecast to 2025, the global market for LED and OLED displays and lighting products would reach $95.936 billion by 2025, expanding at a compound annual growth rate (CAGR) of 6.95% from 2018 to 2025.
Hikvision has several years of experience in supplying monitoring screens for surveillance centers. It currently has its own LED factories, but not only that, it is positioned in the Top 3 LED brands by volume in China, with double-digit growth above the market, and number 1 in LCD.
"The era of bright dynamic LED screens is at its peak, so much so that they are quickly taking control of the urbanized space so it is difficult to imagine any city without a splendid and quality image, located on the walls of houses, shopping centers or business centers," says Sergio Souza, Head of Commercial Display for Hikvision Mexico. "Our foray into this digital signage market is no coincidence. There is a whole research and development work behind it to bring a visual experience to the Mexican market."
It indicates that the digital revolution is changing the way consumers behave and engage with companies. Restaurants, bars, cafes, boutiques, shops, shopping centers, showrooms, studios, auditoriums and conference rooms are opting for this type of advertising to show information, promotions, menus and much more, which provides the surprise factor that the public is looking for.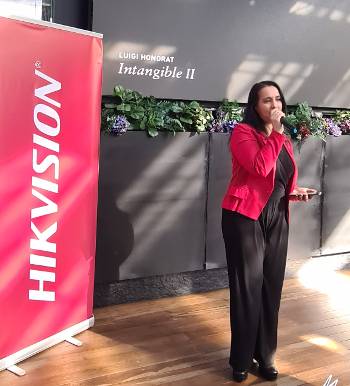 He points out that Hikvision's professional displays, both indoor and outdoor, bring numerous benefits for a wide range of applications. For example, one of the important sectors is the restaurateur. In Mexico, this industry represents 12.2% of all businesses in the country with 581,530 economic units that generate just over two million jobs. The use of a screen can cause an impact on the clientele when projecting a sporting event, such as the upcoming FIFA World Cup Qatar 2022, or any other national or international entertainment event.
"Hikvision displays feature brand-exclusive HOB encapsulation technology, which allows you to protect LEDs, increase their contrast by 40%, and lower the failure rate from 100pp per million to 10pp per million. We also have COB encapsulation technology, which protects the surface of the screens in saline, sandy, dust, liquid environments and facilitates cleaning. With the pitch module of up to 0.9 our screens offer spectacular images, with a better quality of light in their lamps optimizing electricity consumption".
Available models of Displays Hikvision in Mexico
With excellent image rendering technology, Hikvision displays provide users with real images and videos with an exquisite high-definition image. Equipped with exclusive Pix Master image processing technology, the displays offer enhanced image sharpness, dynamic contrast, saturation and enhanced clarity from all directions. They also feature remote control, optional dual power, signal redundancy and automatic dehumidification with an easy-to-use experience.
In addition to traditional fixed displays, the company has creative displays in different forms to meet customized requirements and set up an excellent display system in various scenarios, such as meeting rooms, buildings and retail stores.
It should be noted that these displays simplify the splicing of several screens due to their standardized structure, which allows easy installation and maintenance, in addition to supporting common resolutions of 1080p and 4K with a precise proportion.
http://www.hikvision.com/ES-LA/